Russia's Would-Be Jack Ma
Maxim Nogotkov, who had been busy building the Russian equivalent of Alibaba, has to give up his business to creditors: His plans are no longer feasible in President Vladimir Putin's new Russia.
by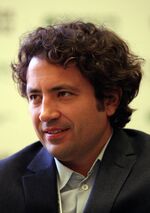 When I asked Maxim Nogotkov -- the man who was, until recently, on his way to becoming Russia's Jack Ma -- if Russia's current policies had anything to do with his losing his retail empire to creditors, he firmly said "No." But is that true? Listen to his story and judge for yourself.