Putin's Top Gun Strategy Is Reckless
The MH-17 tragedy caused the deaths of over 300 people. But it's clear that it had little effect on Russia's approach to risk management.
by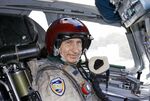 Russia seems not to have learned the central lesson of the shooting down of Malaysian Airlines Flight 17 over eastern Ukraine: That reckless strategies produce accidents, and the costs can be huge.