Is Harry Reid Bluffing on Nominations?
Harry Reid is set to usher a wave of Obama nominees through confirmation. Unless, that is, Democrats would prefer to go home.
by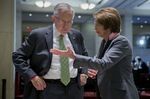 The story on judicial and executive branch nominations this week (and beyond?) is fascinating. Plenty is at stake, with appointments for a dozen federal district judges and lots of executive branch personnel being considered, including a nominee for surgeon general. Had the appointments waited until Republicans take over the Senate next month, all would have been delayed; some might have been stopped entirely.