Facebook's Phony Privacy Battle
I wonder whether Facebook (or any company that thrives by sharing our data) is the best judge of what's okay to hand over to investigators.
by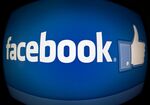 When Facebook made user names,  profile pictures and other personal information publicly available a few years ago, founder Mark Zuckerberg said that people had started to care less and less about privacy. He told TechCrunch founder Michael Arrington: "That social norm is just something that has evolved over time." And he said that Facebook was changing to keep up.