America's Shameful Response to the Torture Report
Muddled thinking about a clear case of wrong.
by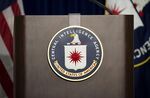 The reaction to the Senate report on the Central Intelligence Agency's torture program has been almost as depressing as the report itself -- which is saying something. There's been impotent outrage from people you'd expect to be outraged; lame excuses from people you'd expect to make excuses; and muddled ambivalence from the vast uncommitted.