Torture Report Is a Reminder of CIA's Past
The CIA has overstepped before.
by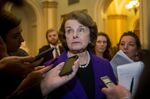 Two wise veterans of America's national security wars were of mixed mind after the release last week of the Senate Intelligence Committee report on torture. The panel blistered the Central Intelligence Agency for subjecting terrorism suspects to brutal and seemingly ineffective interrogation techniques and misrepresenting what it was doing.