British Pubs Cry in Their Beer
More than 30 British pubs close every week, and the government needs to do more to defend these cultural institutions.
by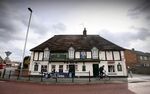 The British pub is slowly dying, with more than 30 closing every week, according to the Campaign for Real Ale, a lobby group for pub owners and customers. The government needs to give publicans a helping hand before the heart gets ripped out of more communities.
Cozier than a bar and quieter than a club, a good pub is more than a place to get drunk. My local, the Horatia on Holloway Road in London, hosts a dancing club on Monday evenings called Swing Patrol. Landlord Josh Binks serves fine roast dinners on Sundays and restaurant-quality food throughout the week. Its big-screen TVs entertain soccer fans of all colors even though Arsenal's stadium is just around the corner, making it the club's home pub.
The Swan & Edgar in Marylebone, in central London, typifies many of the challenges the industry faces. It's been a pub for more than a century and, at less than 1,400 square feet, has a reasonable claim to be London's smallest boozer. A developer, though, bought and closed the business, and wants to convert the premises into a house.
The architects hired to oversee the conversion said in their initial planning application last year that the pub only attracted an average of 15 customers a day, with almost no casual visitors or lunch-time drinkers.
Still, local residents are trying to block planning permission. Alexander Melman, who is leading the fight, says the council has twice rejected the new owner's bid to change the building's use to residential from commercial. But Melman has been waiting nine months for news on whether his application to have the institution deemed "an asset of community value'' has succeeded. "We fight on,'' he told me yesterday.
Among Britain's oldest taverns are the Old Ferryboat in Holywell, Cambridgeshire, which claims heritage back to 560. Born in 1189, Ye Olde Trip to Jerusalem in Nottingham is a relative youngster. Ye Olde Fighting Cocks in St. Albans says it was an inn from 1539, during the reign of Henry VII. History, though, is proving scant defense.
Christopher Snowdon, at the Institute of Economic Affairs in London, compiled this chart showing how the pace of closures has accelerated in recent years. Since 1980, 21,000 pubs have disappeared, 10,000 of which closed in the last eight years:

The threats to pubs are many. In a time of economic austerity, cheaper supermarket booze keeps cash-strapped drinkers at home. The U.K. ban on smoking in public places deters nicotine addicts who don't fancy feeding their habit in a chilly pub garden. The ever-roaring U.K. property market makes anything with four walls and a roof a lucrative apartment-conversion opportunity.
In a study published this week, Snowdon asked the question: "Who's killing the British pub?'' His unequivocal answer is that the government is largely responsible:
Pubs are struggling from a lack of demand for pubs which has been largely due to government policy. The government cannot -- and should not -- undo the cultural changes that have led to people choosing alternative leisure activities, but it can undo the damage it has caused through taxation and regulation.
In July 2007, the U.K. banned smoking in public buildings and workplaces. That government initiative, Snowdon says, correlates more closely with the collapse in pub numbers than any other factor. Pubs that don't offer much in the way of food or don't have outside spaces have proven particularly vulnerable.
So one action the government should take is to allow pubs to designate closed smoking areas, similar to the smoking rooms airports have used to quarantine cigarette users. It's unlikely to boost demand for nicotine; being trapped in one of those disgusting enclosed spaces might even persuade more addicts to switch to ostensibly safer e-cigarettes.
The government has already taken some steps to aid publicans fiscally. The so-called beer-duty escalator, an automatic levy that increased by the rate of inflation plus 2 percentage points each year since 2008, was scrapped last year, with the tax cut by 1 pence rather than increased by 3 pence.
When an industry is in trouble, as the pub community undoubtedly is, cutting taxes is a smart move. In many small towns and villages, the local pub is the center of community life, as well as a source of employment, so a stricter stance on change-of-use planning applications would also help.  
But, as Kris Hopkins, the government's community pubs minister, said at the Conservative Party conference in September, the best way for local communities to defend their pubs is to make more use of them so they remain viable businesses, not just antiques in the nostalgia industry. So I'll be popping into the Horatia on my way home tonight -- purely in the interests of economics. 
This column does not necessarily reflect the opinion of Bloomberg View's editorial board or Bloomberg LP, its owners and investors.