Let's Make a Deal for Climate Aid
Rich nations want lower emissions. Developing countries want money for adaptation. Let's make a deal.
by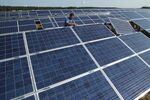 The United Nations talks ending tomorrow in Lima have highlighted two fundamental sticking points over how to deal with climate change. First, major developing nations are resisting calls to cut their emissions. Second, developing nations want rich nations to provide them with more money for adapting to a changing planet.