John Boehner, Master of Winning Ugly
House speaker's spending bill gets past Democrats and some restive Republicans.
by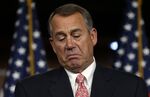 No politician has mastered the art of winning ugly quite as well as House Speaker John Boehner.
He just survived another potential debacle, this time by winning a procedural vote on the bill to keep the government funded for the next year. Democrats voted unanimously against it, because they objected to several provisions, but, I suspect, mostly to force Republicans to own the bill that they had largely written (though the current measure was negotiated with Senate Democrats).
Meanwhile, Republican radicals opposed it, mainly on the grounds that it represented a "surrender" on immigration and Obamacare. It's true that it  does nothing to stop President Barack Obama's executive action on immigration … but neither would anything else House Republicans could do right now, so the radicals were unable to sway the bulk of the conference.
However, the dissent from the radicals and the Democratic opposition meant that, as often in the past, Boehner had very little room for error. The measure was losing by a narrow margin after everyone had voted, then it was tied, until one more Republican flipped to "yes" and the bill passed 214-212. It has to survive final passage, but the odds are pretty good at this point.
We've seen this dynamic again and again since Republicans took over the House in 2011, and it's not likely to change with the next Congress, despite the larger Republican majority. The narrative will remain the same: radicals want to differentiate themselves from mainstream conservatives, and mainstream conservatives don't want to show any daylight between themselves and anyone who can credibly claim to be True Conservatives. Meanwhile, the leadership has to get stuff done.
Sometimes, that's caused an initial failed vote. Sometimes, it means that Boehner cuts deals that allow a bill to pass with Democratic votes. The only catastrophic failure was the government shutdown in October 2013.
That's because Boehner has been a first-rate speaker. This is a good part of the reason he will keep his job in the next Congress. Republicans -- including the radicals, I suspect -- know that by following their personal incentives, they're constantly setting him up to look terrible. That he finds ways for them to do so while avoiding disasters is a quality they probably appreciate very much.
This column does not necessarily reflect the opinion of Bloomberg View's editorial board or Bloomberg LP, its owners and investors.