Fund Ukraine Only After It Reforms
The Ukrainian government has drafted a reasonable austerity plan, but it may just be a ploy to get more international funding.
by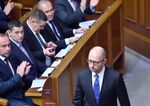 Ukraine urgently needs a new IMF bailout, and that may finally force the country to make drastic and unpopular economic changes. The government already has a new action plan that contains a number of effective steps. For now, Ukraine's Western sympathizers might do well to withhold financing to make the government move faster on the reforms.