A Ferrari Is Still a Ferrari
Ferrari's decision to consider relocating highlights Italy's lack of corporate tax competitiveness in a fracture EU fiscal regime.
by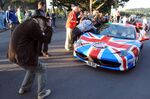 Drive through the Italian countryside in your rented Fiat, and you'll eventually notice that almost every vehicle you pass is also a Fiat, or an Alfa Romeo or a Lancia. While foreign brands congest the nation's cities, rural Italy pays loyal homage to its domestic auto industry.