Editorial Board
Uber Didn't Cause India's Rape Problem
Rape will remain a high risk for Indian women until the government takes measures to protect them that extend well beyond car-service rules.
by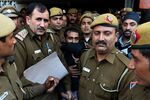 After the alleged rape of a young woman in an Uber cab in New Delhi, the Indian government has advised states to require that such ride-sharing services be registered, as taxi companies are. That would mean every driver would have to undergo a more rigorous verification process, which could very well make Uber cars safer; as things stand, all a driver needs is a "character certificate," which can be had for as little as $130.
Life in general will remain dangerous for Indian women, however, until the government takes far broader measures.
In Indian cities, even registered taxi drivers have been accused of assaulting female passengers. Indeed, one reason Uber has become so popular among young women who can afford the service is that the alternatives -- from public transport to radio taxis -- are even less safe. Despite the introduction of fast-track courts and more stringent laws, India's criminal justice system remains notoriously lax in dealing with sexual assault. Even serial offenders often walk free; the accused Uber driver had charges dating back more than a decade and was out on bail after being indicted on a separate rape charge last year.
To begin to crack down, Indian authorities need to improve the national criminal database they've begun putting together. Because many convictions are not yet in the system, it remains extremely difficult for police to run an authoritative background check on any suspect. In many localities, police data has not been digitized. Given how many drivers in Delhi and elsewhere are recent migrants from other states, it's essential that the database be nationally comprehensive.
Another enormous problem is that India remains woefully underpoliced. In New Delhi, the capital, tens of thousands of officers are wasted providing security for minor politicians and other VIPs when what's needed are more honest cops walking the streets.
Fully addressing what some have called an epidemic of rape in India will require a conversation that goes beyond the criminal justice system. As commentators have pointed out, more than 90 percent of sexual assaults in Delhi are committed by men known to their victims, and more than 80 percent happen inside people's homes.
Stiffer regulations on ride-sharing services can hardly solve the problem. Indeed, women might be better off if India were to encourage more, rather than fewer, services like Uber. Those companies that adopted the strictest safety measures and background checks could charge a premium; some already cater specifically to women, employing only female drivers. Authorities would still need to do a better job of making cities safe for all citizens, but they may as well let the market help where it can.
To contact the senior editor responsible for Bloomberg View's editorials: David Shipley at davidshipley@bloomberg.net .
Before it's here, it's on the Bloomberg Terminal.
LEARN MORE