Amazon Doesn't Have to Treat Its Workers Fairly
Courts are not in the business of creating rules that ought to exist; that's what we have a legislature for.
by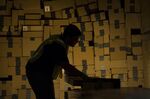 Should you get paid for standing in line? Workers at an Amazon warehouse thought they should. I kind of agreed. But the Supreme Court disagreed, holding 9-0 that the Amazon contractors could be forced to stand in line to clear security at the end of their workday but did not have to be paid for their time.