YouTube, Facebook, Google and Amazon Wage a Video War
YouTube is fighting to keep its video stars, and Amazon and Facebook want a piece of the business.
by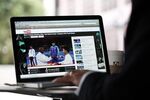 YouTube has been fighting to hold onto the small screen stars that make the website a regular destination for viewers, rather than a place where people can sporadically watch videos of cats on Roombas. Facebook and Yahoo also want those performers - whose higher-quality content can bring in higher-priced advertising dollars - as do startups such as Vessel, which the Wall Street Journal says is using a big $75 million war chest to aggressively court the Google unit's talent.
The battle reminds me of the old Hollywood studio battles for stars who could reliably get viewers into movie theaters, and it's a battle that still skews in YouTube's favor. The site is the second-most trafficked in the U.S. (Google is number one) and its viewers watch six billion hours of video a month, making it a pretty compelling place for any performer who wants an audience.
That reach is among the reasons why Jefferies estimates that YouTube revenue could total $5.9 billion this year. The Information reports that revenue came in at about $3.5 billion in 2013. (Google has never broken out YouTube's revenue). The video service currently accounts for only about six percent of Google's overall revenue, but the unit is important to its parent because Google needs to branch out from its core search business if it wants to keep growing robustly. Bank of America Merrill Lynch analyst Justin Post recently lowered his rating on Google, in part because of slowing growth in ad revenue from search.
As the fight for video talent heats up, I've had a couple of conversations with analysts and ex-employees about whether Google lost an opportunity to win the video war when YouTube ceded its role as a video hosting platform.
The thinking goes something like this: YouTube operated as a standalone company even after Google acquired it in 2006. That helped the service grow organically in lots of ways, and kept it popular with users. It was essentially a platform where people uploaded and distributed videos, and it was one of the only places where people could affordably serve that kind of content. But Google also didn't open up YouTube so other video producers could build on top of the platform. 
When other companies like Netflix started streaming massive amounts of video in 2007, Amazon Web Services was one of the only places to build such a business. Since then, video startups like Twitch and Joyous have been built in AWS, as was Dropbox, a huge storage startup that hosts photos and videos, along with documents. The users, traffic and data associated with that constellation of clients all flow to Amazon, and Jeff Bezos' company could someday find ways to monetize or otherwise create strategic partnerships with those same content creators. (In fact, Amazon bought Twitch last August as part of a bid to compete with YouTube for web viewers.)
The relationship between Amazon and the companies that live in AWS isn't perfect. Amazon's decision to produce its own television shows pits it against Netflix, for example. But once a company has been built on top of Amazon's servers and storage products, leaving becomes difficult and it takes a long time to rebuild elsewhere. For now, the potential opportunities seem to outweigh the negatives for AWS' customers, so they're staying put.
If AWS gives Amazon a video edge on the back-end, Facebook's relationship with its users could give the social networking behemoth a big advantage over YouTube on the front-end. Unlike the Vessels and Yahoos of the world, Facebook has a huge 1.2 billion-person audience that habitually checks in. It's the third most trafficked site in the U.S., and, unlike YouTube, can offer video producers exposure to a well-defined community. (YouTube is trying to rectify this problem by offering subscription services, as my friend Amir Efrati has written about many times at The Information.)

In short, the stars don't have to draw a reliable audience into the Facebook theater. The viewers are already right there, in their seats, waiting to watch.
In November, users uploaded more videos directly to Facebook than they did by sharing video from YouTube, according to Business Insider. It's an important shift, but it's too early to read too much into the trend. The analysis only included 20,000 Facebook pages. Given Facebook's propensity to fiddle with its news feed feature, videos could become more - or less - visible on the Facebook site and app depending on what the company decides it wants to feature.
As the digital video talent wars rage on, YouTube will continue to face other challenges. Even if it keeps its current crop of stars, there's no guarantee that it will be the place where awesome content is created, distributed and monetized outside of the cable business.
While YouTube has a huge advantage today in terms of on-screen talent, brand and reach, Amazon and Facebook have come gunning for that business, too. 

There's a war on.
This column does not necessarily reflect the opinion of Bloomberg View's editorial board or Bloomberg LP, its owners and investors.