Paddington Bear, Illegal Immigrant
The movie "Paddington Bear" is an illustrated guide to the worldwide debate over immigration.
by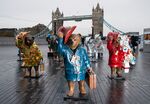 "In London, everyone is different, but that means anyone can fit in," says the computer-generated Paddington Bear in the just-released film bearing his name. It's a sentiment that governments everywhere might bear in mind as they wrestle with the thorny issue of how to cope with immigration. Certainly, the movie makers would like them to.