Kashmir Needs Growth, Not a Nobel
This year's joint Peace Prize is nice. But tensions over the disputed state of Kashmir will only ease when prosperity arrives.
by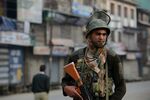 When the Nobel committee awards its 2014 Peace Prize to education activists Kailash Satyarthi and Malala Yousafzai in Oslo on Wednesday, the judges will be sending a message to the winners' home countries: India and Pakistan. More than 65 years after independence, the South Asian nations remain locked in one of the world's longest cold wars, most notably over the disputed territory of Kashmir.