Big Ten Uses Its Head on Concussions
The requirement for an independent trainer goes a long way in addressing the inherent conflict of interest of team-employed doctors.
by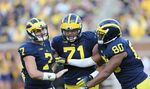 The Big Ten has approved new concussion protocols, making it the first "Power 5" conference to standardize its treatment of head injuries. It's time for the rest of the NCAA to follow suit.