What Amtrak Has in Common With Government
The Supreme Court considers whether Amtrak can operate like the government and write rules to speed up the trains.
by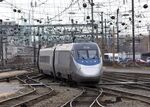 Ever sit on Amtrak's Acela high-speed service wondering why our train system is so medievally slow compared with, say, China's? Or rather: Have you ever sat on the Acela and not thought that? Either way, the U.S. Supreme Court has a case for you. Today it's considering the constitutionality of a law that, at least in theory, allows Amtrak to pressure the companies that own the rail lines and freight trains to improve access for passenger trains. And the constitutional issue is a fascinating one that goes back to the New Deal: How much lawmaking authority can Congress delegate to bodies other than itself?