Can Wall Street and Main Street Stay Aligned?
Markets usually plunge when the news is good for U.S. workers. Friday's jobs report sent stocks soaring instead. What gives?
by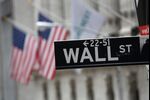 Friday turned out to be a good day for both Main Street and Wall Street. The impressively strong U.S. monthly jobs report, instead of leading to a selloff in stocks, contributed to a record high for equity markets by the end of the day. If this new alignment persists, it could be quite consequential in several different ways.