Bill Cosby Should Thank Rolling Stone
What did or didn't happen at UVA now colors Cosby's story.
by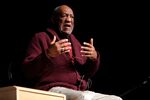 The context of the Bill Cosby discussion has changed in the past few days. The shift has little to do with Cosby or his lawyer or the heap of accusations against the entertainer by alleged victims of sexual assault. It has everything to do with Rolling Stone, Sabrina Rubin Erdely and a young woman going by the nickname Jackie.