NASA's Mars Capsule Will Never Land on Mars
Rather than admit the Orion space capsule's many shortcomings, NASA has boldly promoted its launch as America's first step towards Mars.
by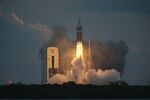 The Orion space capsule that launched earlier today has been under development by NASA since the mid-2000s. But, watching it splash down in the Pacific ocean four hours later, you'd be forgiven for thinking of the 1970s. The capsule, which by some reliable estimates cost over $10 billion, didn't accomplish anything that wasn't somewhat routine for NASA in the era of the Apollo moon landings.