How to Read the Monthly Jobs Report
Watch the trend in the monthly jobs report, not the number in any one month.
by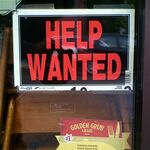 Over the years, I have written at length about why the obsession with the monthly nonfarm payrolls report is misplaced (see e.g., this this and this). What matters isn't any single data point, but the trend's direction. And as we have seen since 2010, that trend has been positive. More recently, it has been picking up speed.