Welcome to India. Please?
This winter, drop all your reservations about India -- make some reservations instead.
by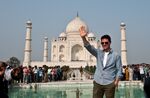 What's the relationship between the number of tourists who visit a country and its visa policy? Some excellent data on this question will soon become available from India, which last week rolled out a new visa-on-arrival policy for citizens of 43 countries, including the U.S.