Police Killings Call for New Kind of Prosecutor
The failure to obtain indictments after the deaths of Michael Brown and Eric Garner shows the need for permanent special prosecutors.
by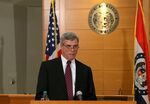 After the deaths of Michael Brown and Eric Garner, and the decisions of grand juries not to indict the police officers involved, one question has hung heavily in the air: Should local prosecutors be handling cases against police officers acting in the line of duty?
Probably not. Prosecutors and police officers who work in the same jurisdiction are part of the same team -- what the U.S. Supreme Court refers to as "the prosecution team" -- and their allegiances reflect that. Prosecutors rely on local police officers to make arrests, investigate cases, interrogate suspects and testify at trial. Police officers, in turn, rely on prosecutors to convert their arrests into convictions and assist with investigations. It's bizarre to expect a full-throttle prosecution of one teammate by the other.
What's the alternative? Not federal prosecutors. A federal prosecution hinges on demonstrating a civil-rights violation -- a deprivation of constitutional rights on account of the victim's race or ethnicity. Most police shootings can't easily be squeezed into those criteria.
The best option is for states to create permanent "special prosecutors," housed within the office of the attorney general, to provide a level of insulation from local law enforcement. The special prosecutor's responsibilities should be limited to the oversight, investigation and prosecution of police or public official misconduct, keeping them independent from other policing functions.
Special prosecutors exist already, but are typically appointed case by case. This approach leads to special prosecutors who are not sufficiently disinterested. For instance, when police killed a man in an Ohio Wal-Mart in August after he pulled an air rifle off a shelf, a local prosecutor from two counties over was appointed to handle the case. Unsurprisingly, he failed to obtain an indictment.
Setting up permanent special prosecutors would cost money. But establishing a permanent special prosecutor is more cost-effective than appointing one by the case. Special prosecutors picked for a single investigation have little incentive to contain costs. Taxpayers in Cook County, Illinois, were charged more than $1 million when a high-profile lawyer was appointed to handle the prosecution of former Chicago Mayor Richard Daley's nephew for his role in a bar fight that left a man dead.
By contrast, a permanent office could be held accountable for any overspending and would feel the same caseload and budgetary pressures as other prosecution offices. It would also have institutional advantages and economies of scale.
And there would be plenty of work to occupy such offices. What makes the killings of Brown and Garner so upsetting is that they're not aberrations; the Cato Institute's National Police Misconduct Reporting Project shows 4,861 unique reports of misconduct in 2010, including 127 fatalities associated with excessive force. Today's Department of Justice report on use of force by the Cleveland police further suggests there is no shortage of cases that deserve an independent evaluation. 
Two Missouri state legislators have already called for the creation of a permanent special prosecutor. Their colleagues should support them, and other states should follow their lead. 
This column does not necessarily reflect the opinion of Bloomberg View's editorial board or Bloomberg LP, its owners and investors.