Editorial Board
What Comes After Putin Could Be Worse
Vladimir Putin is taking his country straight down a path that could lead to a regime much worse than his.
by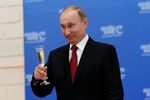 Vladimir Putin may not be too concerned about the economic repercussions of his standoff with the West, but the rest of the world should be: The Russian president is taking his country straight down a path that could lead to a regime much worse than his.
Western sanctions and falling oil prices have sharply worsened the prognosis for an economy that was already struggling before Russia sent troops into neighboring Ukraine. The ruble is plummeting, the government is spending billions of dollars to shore up banks, and crucial projects -- such as the planned South Stream natural-gas pipeline to Europe -- are being scrapped or put on hold. This week, a senior official said the country may enter a full-blown recession in the first quarter of next year.
In the short term, Putin appears well equipped to survive the malaise. His military adventures and the attendant propaganda have boosted his approval ratings to new highs. Even the sanctions to some extent play into his hands, allowing him to cast economic suffering as a necessary consequence of standing up to the West, rather than a result of his own mismanagement. In one stroke, Putin has rewritten Russia's social compact, justifying the Kremlin's grip on power not with the promise of prosperity but with an appeal to nationalist pride.
In the longer term, though, Putin's position is more precarious. His ability to mollify soldiers, state workers and pensioners -- and to distribute billions of dollars in contracts to powerful allies -- depends heavily on the oil and gas revenue that make up about half of the federal budget. Although the government has set aside almost $90 billion to insure against an energy slump, prices are now so low that Russia could easily burn through the rainy-day fund in a couple of years. If borrowing remains difficult, Putin will then face the politically fraught task of cutting spending or raising taxes to make ends meet.
Putin's return to Cold War politics will only reduce the chances of a healthy recovery and diversification away from dependence on oil. The innovative, well-educated people needed to create a vibrant economy typically don't want to live in a pariah state, where they can't speak freely or choose their leaders -- and where whatever they build can be stolen by corrupt officials. From 2011 through 2013, the first two years of Putin's latest presidency, annual emigration quintupled, and the number of active individual entrepreneurs declined by about 13 percent.
Meanwhile, Putin is encouraging a dangerous strand of nationalism that he may not be able to control. Moscow's meddling in Ukraine has helped make heroes out of some very unsavory figures -- such as Igor Girkin (aka Igor Strelkov), a leader of the pro-Russian rebellion who fancies himself a fighter in a greater war against a morally corrupt West. Some extreme nationalists now view Girkin as a potential challenger to Putin.
The longer Russia's economic malaise lasts, the greater the chances that the opposition to Putin will turn into something more virulent. At that point, unless some faction of Russia's elite managed to remove Putin and hold free and fair elections, revolution would be the most likely route to regime change. The middle-class Muscovites who led the rebellion of 2011 and 2012 failed because too few of them were desperate enough to risk their lives. Next time around, the outcome could be different -- and much worse.