Trademarks: Let the Jury Decide
A case at the Supreme Court today involves the fascinating question of whether a trademark should count if it originates in a foreign language.
by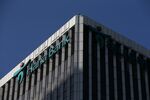 Does the U.S. Supreme Court have a trademark? It certainly has its own seal: Check out the cool legal eagle on supremecourt.gov. Regardless of whether it's a trademark, however, the eagle has reason to look proud of its uniqueness right now. The court, which very rarely hears trademark cases, is making two exceptions this week. Yesterday, the issue was how much the courts should defer to the examiners in the Patent and Trademark Office, in a technical case that I'm going to spare you.