The System Failed Eric Garner
Police, like many professionals, exercise considerable power without supervision. That's probably unavoidable, which means that there will always be some abuse in the system.
by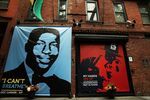 The Ferguson case seems to have split the country, with a stark racial line dividing those who believe that police officer Darren Wilson legitimately believed he needed to shoot Michael Brown six times in order to protect himself and those who believe that Wilson deserves to be in jail for shooting an unarmed young man. It's possible that the nation will never resolve these two points of view. But it should be pretty easy to come to an agreement in the case of Eric Garner, who died after a New York City police officer used a chokehold, which violates department guidelines, to subdue him during an arrest. The medical examiner says it was the chokehold that killed him. Garner's alleged crime? "The officers involved, part of a plainclothes unit, suspected Mr. Garner of selling loose cigarettes on the street near the Staten Island Ferry Terminal, a complaint among local business owners."