The Pope Has a Point
In his warnings of European decline, Pope Francis has hit upon the West's central failing.
by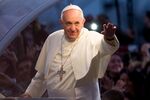 In a speech last week at the European Parliament in Strasbourg, Pope Francis denounced a materialistic Europe that had grown indifferent to human dignity and to the "transcendent dimension." The first Latin American pontiff went on to compare Europe to a "haggard" grandmother.