The Backstory of Obama's Ozone Rules
The prevailing fog between good guys and bad guys in the fight against air pollution.
by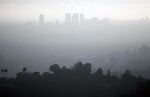 Last week, the Environmental Protection Agency proposed, after White House review, an ozone regulation very similar to one that President Barack Obama personally blocked some three years earlier. On both the right and the left, and in news stories as well, the new proposal is being portrayed as an intensely political reversal: Unburdened by the prospect of reelection, the president is said to be following his instincts, appealing to his base and ignoring the complaints of the business community, to which he capitulated in 2011.