How Sotheby's and Christie's Went Wrong
The departure of the chief executives of the two global leaders in art sales, Sotheby's and Christie's, may be an opportunity for the companies to turn to the lower-end art market.
by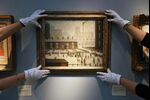 The chief executives of the world's two biggest auction houses, Sotheby's and Christie's, have both resigned in the last two weeks. What were they doing wrong?
At first glance, the two stories are quite different. Sotheby's chief executive officer, William Ruprecht, resigned Nov. 20 after a proxy battle with activist investor Dan Loeb, who accused the auction house's directors and management of being "asleep at the switch." Loeb's complaint was that Sotheby's insiders were too entrenched and too reluctant to change the business as it fell behind arch-rival Christie's. Loeb made a solid case that there had been a shift in power, especially in the dynamic market for contemporary art:

Christie's chief executive, Steven Murphy, announced today that he is stepping down. But he is leaving as a winner. News stories about his resignation (such as this one or this one) don't dispute the company's version of events: Murphy, hired in 2010, has done his job of modernizing the auction house, expanding into Asia and building up its online business. He now plans to spend more time with his family. And Murphy's successor, Patricia Barbizet, is a woman, a rarity in the male-dominated art business, where even contemporary works by men typically fetch more than those by female artists. Granted, Barbizet is already chairman of Christie's, but her promotion is a progressive step.
Christie's online auction platform, built over three years at a cost of $50 million, is growing fast: Sales increased 71 percent in the first half of 2014. Sotheby's, meanwhile, is struggling to establish a working partnership with eBay. Christie's online revenue, however, only accounted for $13.6 million  of it $4.6 billion sales in the first half of this year. It's not a major advantage over the auction house's eternal rival.
The stark contrast between the two narratives is mostly a consequence of the two companies' different market status. Sotheby's is publicly traded and must report detailed financial data, including profit and costs. It's open to attacks from the likes of Loeb and to shifts in market sentiment: Its stock is down more than 18 percent this year. Christie's is owned by French billionaire Francois Pinault. It only reports sales twice a year, along with the financial highlights it chooses to brag about. With the art market as overheated as it is now -- both companies have been reporting record sales every year this decade -- it's much easier to find fault with Sotheby's using its own data than to determine what Christie's might be doing wrong. 
The only way to really compare the two companies' performance is to look at market share data. It reveals that both auctioneers have stood up to one of the big challenges of recent years but failed to tackle another. 
The first challenge came from China, which overtook France in 2007 as the world's third-biggest art market after the U.S. and the U.K.. That year, China recorded 75 sales over the $1 million mark. 
By 2010, China was the biggest art market, and in 2011, 774 artworks of more than $1 million were sold there -- about 10 times as many as in 2007. Both Christie's and Sotheby's were firmly established in China, but they faced tough competition from local companies, such as China Guardian and Poly International. The patriotism of Chinese collectors often outweighed their respect for the venerable U.S. and British traditions of Sotheby's and Christie's, and besides, the local houses often charged lower premiums.
Still, Sotheby's and Christie's are holding their own against that threat. In 2010, according to Artprice.com, they each controlled 26 percent of global auction revenue. In 2013, Sotheby's share remained constant, and Christie's increased slightly: 

Yet if Chinese auction houses are excluded from the calculation, the picture changes. In 2012, Christie's controlled 37.9 percent of the rest of the market, compared with Sotheby's 34.7 percent. For 2013, Christie's would have a 35.4 percent market share and Sotheby's 31 percent. Both companies are losing to competitors listed as "Other" in Artprice.com reports.
Works worth $5,000 or less account for about 80 percent of the art sold in the West. Much of that market is online. This is a segment where Sotheby's and Christie's are not big players: They prefer to deal with millionaires who buy art as an investment. That is the case with most Chinese collectors, and the two venerable houses do great business with that clientele. At the same time, people of more modest income buy art simply because they enjoy it.  That's a market where nobody pays exorbitant amounts of money for a canvas evenly smeared with white paint.
Those are the customers that both traditional powerhouses of the art world aren't reaching. The new management at Sotheby's and Christie's ought to take a closer look at the "low end": Ultimately, the growth there could be more sustainable than the current speculative boom at the high end. 
This column does not necessarily reflect the opinion of Bloomberg View's editorial board or Bloomberg LP, its owners and investors.