Uber. Facebook. I Can't Tell the Difference
There are so many similarities between Facebook and Uber. Let us count the ways.
by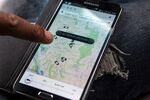 So now that Dan Primack has told us all that Goldman Sachs' high-net-worth clients will be able to buy pieces of Uber, a privately-held, venture-backed, cabbie-threatening, richly-valued startup, it feels so...familiar.