Obama Cannot Save Ferguson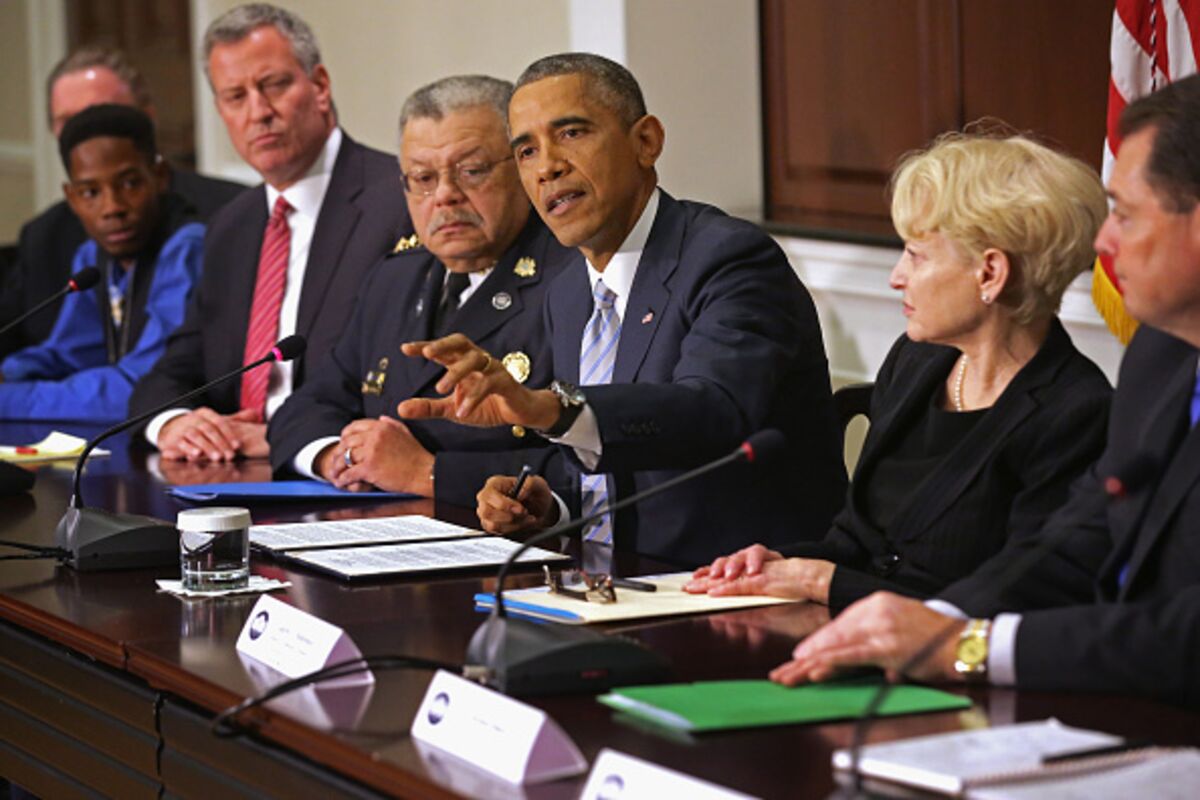 A committee to do something.
Photographer: Chip Somodevilla/Getty Images
For politicians, the first rule of crisis management is simple: Be perceived as doing something to improve things -- even (or especially) if you can't actually do much to improve things. It's a lesson President Barack Obama has apparently learned well.
The president announced a series of actions yesterday to address the national debate over race and policing that turned violent in Ferguson, Missouri, last week. They don't amount to much. There was the requisite appointment of a task force to study policing and report back with recommendations, along with a proposal to spend $75 million on cameras for police to wear, which could do more harm than good.
There will also be stricter guidelines governing the distribution of excess military equipment to local law enforcement agencies. Any use of such equipment will now require "after action analysis reports." Neither step will do much to hold local police accountable when they deploy military equipment irresponsibly and counterproductively, as they did in Ferguson in August.
Obama also promised more training for local police on the use of military equipment. That could be helpful, but only if it includes extensive tactical training for police commanders. Responsibility for August's overly militarized response to the demonstrations in Ferguson rests not only with the officers driving Humvees and pointing military rifles at peaceful demonstrators, but also with those who trained, deployed and oversaw them.
Prior to the grand jury's decision last week, Missouri Governor Jay Nixon and police leaders boasted of the 5,000 hours of training that 1,000 police officers had received. Then officers in riot gear proceeded to guard the Ferguson police station and leave the town to looters.
It was another failure of leadership that has marked events in Ferguson from the beginning.  Nixon and St. Louis County Executive Charlie Dooley, both Democrats, have largely escaped criticism from leading members of their party. But both bear responsibility for allowing a tragedy to spiral out of control, as do Ferguson's mayor and police chief. Their missteps have turned the people of Ferguson against them, forcing Obama to offer what small measures he can. But the demonstrators expect much more.
It's unlikely Obama's actions will have much impact in Ferguson or anywhere else. Preventing future public demonstrations from devolving into violence will require state and local leaders to learn the lessons of the past four months. That may be the most useful service the Obama administration can provide: laying bare the mistakes that officials made in the aftermath of the shooting, and ensuring that police chiefs and elected officials know how to avoid them. It's  a teachable moment, and Obama shouldn't shrink from it.
The more immediate work -- repairing the broken relationship between the people of Ferguson and local police -- cannot be accomplished in Washington. That will require Ferguson's residents to begin turning anger into civic and political activism. If voter turnout does not improve in next April's elections, little else will, either.
To contact the senior editor responsible for Bloomberg View's editorials: David Shipley at davidshipley@bloomberg.net.