Did North Korea Hack Sony?
It's unlikely that North Korea hacked Sony Pictures because it got mad about a movie, but it's important to understand that the isolated country, and almost anyone else, could have done it.
by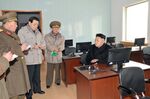 Hard to believe, but Sony executives and U.S. spies suspect that the huge hack that has taken Sony Pictures' office offline for more than a week was the handiwork of North Koreans as retaliation for a yet-unreleased comedy produced by the studio. This, too, could be the plot of a  comic blockbuster, albeit one with a serious message: Hacking skills are a great equalizer.