Chesapeake Forgot When It Had to Buy Back Its Bonds
You'd think that Chesapeake would write this sort of thing down so it would remember, but that's harder than it sounds.
by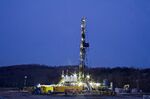 Among my favorite goofball financial-legal stories of recent years is the one about the bonds that Chesapeake Energy forgot to call. The story is, in early 2012, Chesapeake issued some 7-year bonds for about $1.3 billion. 1 It had the right to buy them back for $1.3 billion if it sent investors a call notice by a certain date in early 2013. If it didn't send the call notice by that deadline, then it would have to pay a lot more to buy back the bonds. Exactly how much more depends on timing and Treasury rates, but by my math, if it missed the deadline by a week, it would have to pay an extra $380 million, or about 29 percent of the face amount of the bonds.
The one teensy problem is that no one quite knew when the deadline was. Chesapeake was pretty sure it had until March 15, 2013, to call the bonds. Bank of New York Mellon, the indenture trustee for the bonds, disagreed, and thought that the deadline was more like February 13. You would think that they'd have written this down somewhere, and to be fair they did, but in a pretty messed up way that gave each side room to argue that its interpretation was right. 2
This would not have been a huge problem except that somehow no one became aware of it until February 20, when Chesapeake called up BoNY Mellon to start the leisurely process of calling the bonds, only to discover that BoNY Mellon thought it was already too late.
Of course Chesapeake sued, arguing that the bond documents said the deadline was March 15. I was skeptical, and gave Chesapeake about 25 percent odds of winning. Chesapeake won. A federal judge concluded, in a 92-page opinion, that the language of the bond indenture unambiguously supported Chesapeake's interpretation. So Chesapeake called the bonds, paid the $1.3 billion and went on its merry way.
BoNY Mellon appealed, and you can guess what happened, right? Last week, BoNY Mellon won its appeal: Two federal appeals judges agreed with the district court that the language of the bond indenture was unambiguous. Just, it was unambiguous the other way. A third judge dissented, and she had rather clearly the best of it:
Both the district court and the majority have it half-right: the majority is correct that Section 1.7(b) of the Supplemental Indenture cannot be read to unambiguously support Chesapeake"s position, and the district court is correct that it cannot be read to unambiguously support BNY Mellon"s position. The text is ambiguous ....
This is why lawyers are not like other people. A federal judge took 92 pages to conclude that a contract unambiguously required X. Two other federal judges took a mere 12 pages to conclude, not just that the first judge was wrong, but that the contract unambiguously required Not X. They were just giving the contract's terms "their plain meaning," which was a "definite and precise meaning," or so they say. You might think that if three federal judges disagree about what something means, then it's probably not unambiguous, but that's why you're not a federal judge. 3
Among the fun mysteries here is: What happens next? The thing is, Chesapeake actually bought back the bonds, for $1.3 billion, a year and a half ago. It would be hard for Chesapeake to undo that trade, even if the court was inclined to let it. In fact, the appeals court remanded the case for the district court to decide if Chesapeake should be allowed to take back its redemption notice, 4 though it seems just way too late for that.
One possible outcome would be that Chesapeake would be forced to pay the make-whole price for the bonds -- that is, pay something like an extra $380 million to the holders who sold it its bonds, which after all is what it was supposed to pay if it called the bonds right after the deadline. That seems ... pretty unfair? If it knew it would have to pay the $380 million, it wouldn't have called the bonds. When it did call them, Chesapeake said that it expected to save "more than $100 million in interest payments," and the bonds had traded as high as 109.5 cents on the dollar, suggesting that holders were losing about $124 million of value from the early call. 5 Paying $380 million for that $100-$124 million of value seems excessive. You could imagine a reasonable settlement, in which Chesapeake gives the bondholders, say, most of that $100 million in savings, but not the exceedingly generous make-whole price. Chesapeake's other bonds have lost several points of value since the court's ruling, 6 which I suspect has very little to do with the ruling and very much to do with the fact that high-yield oil and gas bonds have not exactly been in favor since Thanksgiving. Chesapeake's former bondholders probably don't actually want their bonds back all that much.
This is a silly story, but it illustrates one of my favorite financial-legal points, which is that it doesn't always pay to read the documents carefully. Think of the errant "and" in the Caesars Entertainment bond documents. 7 You could read these documents as carefully and expertly as you like, and you'd still have only about a 50/50 chance of knowing what they say. Not literally what they say, I mean, but what a court will ultimately decide that they say.
On the other hand, it does pay to write the documents carefully! It seems reasonably clear, based on witness testimony about Chesapeake's conversations with its bankers, that Chesapeake intended its deadline to be March 15, 2013. 8 It is much less clear that Chesapeake actually wrote that. (I mean, as a matter of law, I guess it's clear that it didn't.) If Chesapeake, and its bankers and lawyers, had just written what it meant, it could have saved itself a year and a half of aggravation. Also a lot of money.
To contact the author on this story:
Matthew S Levine at mlevine51@bloomberg.net
To contact the editor on this story:
Zara Kessler at zkessler@bloomberg.net
Before it's here, it's on the Bloomberg Terminal.
LEARN MORE