Boehner's Fake Red Meat for Furious Republicans
Before Speaker John Boehner can legislate, he must placate the obstructionists.
by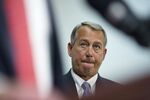 Question for Speaker John Boehner: Are you better off than you were a month ago? Yes, yes, yes. Finally, the conditions are ripe for a duffer with a year-round tan, a pack of smokes and a glass of Merlot to do some business.