Why Is the FBI Still Targeting Petraeus?
Petraeus allies express a concern that goes beyond a criminal probe: that the investigation has caused Petraeus to go soft on criticism of Obama.
by and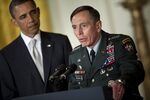 By all outward appearances, David Petraeus appears to be mounting a comeback. The former general landed a job at powerhouse private-equity firm KKR, has academic perches at Harvard and the University of Southern California and, according to White House sources, was even asked by the President Barack Obama's administration for advice on the fight against Islamic State. Yet it turns out that the extramarital affair that forced him to resign as director of the Central Intelligence Agency is still hanging over him.