UVA Should Help Police Catch Alleged Rapists -- Now.
What's to stop Charlottesville police from investigating the sickening rape allegations at UVA?
by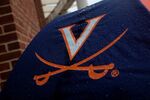 I wrote last week about the explosive rape allegations against a University of Virginia fraternity in Rolling Stone.  This morning I see that Richard Bradley, a former editor at George who had the unhappy distinction of having been taken in by Stephen Glass, is raising questions about the story and the reporting by the author,  Sabrina Rubin Erdely.