What Sony Can Learn From Samsung
Samsung and Sony face many of the same challenges, but only the Korean tech giant is doing something about them.
by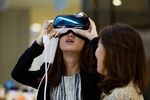 Fierce rivals, Samsung and Sony also face many of the same problems: overstretched businesses, a dearth of game-changing products, hierarchical corporate structures and proud places in their national psyches. But South Korea's Samsung is proving how nimble even huge legacy names can be. Sony should pay attention.