Israel Can't Be an Unequal Democracy
Israel has always been a distinctly Jewish state, but a draft law would lower the status of Palestinians living there.
by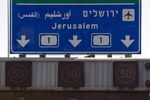 It's official: As of this week, Israel is no longer the only democracy in the Middle East. The immediate reason is that Tunisia, which has a newly minted democratic constitution, held a free presidential election to follow its successful legislative elections. That's a happy story: the more democracies in the Middle East, the better for its peoples. But there's another reason to keep a close eye on Israel's democracy: a draft basic law -- in essence, a constitutional amendment -- approved by the Israeli cabinet that represents a big step backward from Israel's traditional self-identification as both Jewish and democratic.