Victims Under the South China Sea
As China and others fight over remote South China Sea atolls, they're devastating the region's fragile coral cover.
by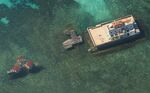 Fiery Cross Reef, a tiny coral dot in the 1.4 million square miles of the South China Sea, wouldn't seem the most obvious or ecologically sound location for a nearly two-mile-long airstrip. But based on satellite images released last week by Jane's Defence Weekly, that's exactly what China seems to be getting ready to build atop it. 
Such construction is unfortunately not unusual in the South China Sea, where nations seeking to enforce their territorial claims have not always spent much time worrying about the environmentally and economically valuable reefs under the waves. How valuable? A 2011 report to the UN General Assembly on coral reefs noted that seafaring Asian nations count between 100,000 and "more than" 1 million coral reef fishers among them. 
One might think that governments, pressed by those fishermen, would be striving to preserve fragile reef systems. But just the opposite has happened. According to a 2013 study by Australian and Chinese scientists, the South China Sea's atolls and archipelagos have seen their coral cover decline to 20 percent from averages of 60 percent or more just 10 to 15 years ago.
The large-scale reclamation of reefs for military purposes is just the start of the damage. What happens after can oftentimes be much worse. "If 1,000 soldiers are stationed at any one time in a place, they typically cut down vegetation and cause runoff, generate sewage," says Terry Hughes, a marine biologist and director of the Queensland-based Australian Research Council Centre of Excellence for Coral Reef Studies. 
Draining into the sea, runoff is deadly for coral: In coastal China, where cities also tend to discharge effluent into the ocean, 80 percent of all coral has died off. In 1980, the amount of coral cover near a large Taiwanese military outpost in the disputed Spratly Islands was 60 to 70 percent. By 2007 it had declined to 17 percent, according to the 2013 study, which Hughes led. 
That sort of damage is likely to grow more common: In October, Taiwan's top intelligence official revealed that China has seven ongoing South China Sea construction projects. When complete, they'll join at least 20 additional reclamations owned by four other South China Sea claimants.
Even worse than the direct damage from construction projects is the political deadlock caused by various territorial disputes. The biggest threat to coral is the large-scale use of cyanide and explosives by the region's fishermen. As Hughes's 2013 study pointed out, at just one atoll, the number of fishing boats using cyanide and dynamite to kill fish increased nearly eight-fold between 1996 and 2001. By 2001, "virtually everything harvestable (e.g., fish, mollusks, crustaceans, echinoderms) had been stripped from the atoll."
Rogue fishermen are the immediate culprits, but a lack of governance and oversight allows them to continue their depredations. While that's no secret to any of the six South China Sea claimants, they're unlikely to agree on where or how to protect coral if they can't agree on boundaries first. Instead individual countries have tried to impose fishing limits unilaterally, which no one else follows. "When it comes time for governance, everyone puts their hand up and that means no one," says Hughes. 
Nonetheless, Hughes remains optimistic, if only because corals can regenerate when protected and given time. (Decades are needed.) He suggests that in the absence of a broader agreement on regulating the South China Sea, scientists from the region might begin the discussion on how to protect reefs. Translating any recommendations into action won't be easy. But it's probably the best option for ensuring that soldiers and tourists won't be the only living creatures left to enjoy the seas.
This column does not necessarily reflect the opinion of Bloomberg View's editorial board or Bloomberg LP, its owners and investors.
To contact the author on this story:
Adam Minter at aminter@bloomberg.net
To contact the editor on this story:
Nisid Hajari at nhajari@bloomberg.net
Before it's here, it's on the Bloomberg Terminal.
LEARN MORE