Why OPEC Will Keep Oil Flowing
Russia and some OPEC countries are better able to weather low oil prices because they have the political leeway to devalue their currencies.
by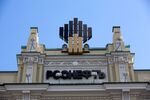 Igor Sechin, chief executive of Russia's biggest oil company, state-owned Rosneft, said something surprising after a meeting this week in which officials from oil-producing countries failed to agree on the need to cut output. Russia will be fine, he said, even if the oil price falls to $60 or less per barrel. How can that be, if, according to a recent Deutsche Bank estimate, Russia needs a price of about $100 a barrel to balance its budget this year?