Thanksgiving in a Nation Divided
Thanksgiving proclamations from James Madison and Abraham Lincoln offer lessons for our turbulent times.
by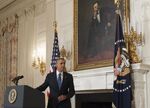 This year Thanksgiving Day falls in the midst of turbulence: anger and grief and division at home, worry about threats from abroad. It may be that recent years have been filled with too many such moments. The state of crisis seems perpetual.