Japan Is Running Out of Options
Dissent within the Bank of Japan is growing. That means more volatility ahead.
by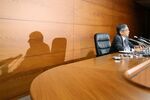 The New York Times recently lit up the Japanese Twittersphere with a cartoon that was a little too accurate for comfort. In it, a stretcher marked "economy" is loaded into an ambulance with "Abenomics" painted on the side; the vehicle lacks tires and sits atop cinder blocks. Prime Minister Shinzo Abe looks on nervously, holding an IV bag.