Democrats Do Have an Obamacare Problem
Chuck Schumer said Obamacare was a political mistake. Don't shoot the messenger.
by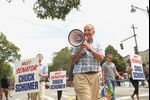 It's easy to be offended by Chuck Schumer's claim yesterday that Obamacare was a mistake, because it favored the interests of the poor ahead of Democrats' electoral fortunes. Harder is dismissing it, because other Democrats are probably thinking the same thing: What did Obamacare gain them?