Can Facebook Catch Terrorists?
A recent U.K. intelligence report shows intelligence agencies' problem in fighting terrorism online is not a lack of information but its overabundance.
by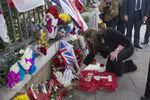 A report published yesterday by the Intelligence and Security Committee of the U.K. Parliament prompted Prime Minister David Cameron to accuse social networks of harboring terrorists. It was the latest contribution to a high-profile campaign by the U.S. and its closest European ally aimed at getting tech companies to cooperate more closely with intelligence services. As the campaign progresses, however, it is increasingly clear the idea may be misguided.