Brazil Has 'a Ferguson Every Day'
In Brazil, police violence is rarely met with protests.
by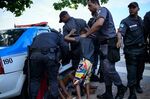 Like many expatriate Americans, I spent a lot of time in August staring at video replays of the protests roiling Ferguson, Missouri, and beyond. After all, the story line -- white cop shoots unarmed black man, streets erupt -- seemed only too familiar, one of those signal moments by which the U.S. is seen and judged by the rest of the world.