Speeding Up India's Courts
Before he pushes ahead with his reform agenda, Narendra Modi needs to take on an old problem: India's creaky courts.
by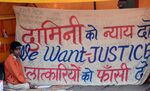 In the winter parliament session which begins this week, Indian Prime Minister Narendra Modi's government is aiming to pass several reforms meant to reduce the state's role in the economy. For them to work, however, Modi needs to fix one area the state cannot exit: India's horrifically dysfunctional legal system.