Bring Congress's Budget Watchdog Out of the Shadows
The problem with the Congressional Budget Office is that the assumptions it uses to score policies and budget proposals are secret.
by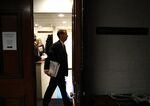 Douglas Elmendorf, the director of the Congressional Budget Office, is a respected economist. He's also the subject of an intra-Republican debate that has broken out since the midterm elections. Democrats appointed Elmendorf to his position, and now that Republicans will control both houses of Congress they can replace him. They're divided about whether they should, and their debate suggests a deeper flaw in a very important government office. 
The CBO estimates the costs and effects of legislation and analyzes budget decisions for Congress. It typically offers a "score" of how a given law would affect federal revenue and spending. The idea is to offer a nonpartisan factual basis for debate.
Elmendorf's term as the head of the office ends Jan. 3, and several conservative economists have come out for reappointing him. They say that he's an honest broker, and that because he's a liberal it carries extra weight when he questions liberal talking points. When the CBO said that raising the minimum wage to $10.10 an hour could be expected to reduce job growth by 500,000, it had a big impact on the debate.
Republicans who want a new director have disparaged some of the reports the agency issued during Elmendorf's term -- particularly its positive findings about President Barack Obama's stimulus spending and his health-care law -- and criticized the organization for not embracing "dynamic scoring." They think that when estimating how tax cuts or tax reform would affect federal revenue, for example, the CBO should take into account the possibility that the policy change would cause the economy to grow faster.
Both groups of Republicans are thinking too narrowly about the organization. Its biggest problem isn't that it reaches the wrong conclusions -- it is usually very unclear what the right conclusions are -- or that it doesn't make the same assumptions as supply-siders. It's that the CBO's assumptions are largely secret.
This secrecy, combined with the CBO's reputation as a nonpartisan referee of legislative disputes, warps policy making. Backbench lawmakers try to design bills that will get a good score from the CBO, without having a clear sense of how to do so. Consultants can make a lot of money by predicting how the CBO will model the effects of legislation.
A number of critics have therefore suggested a more transformative solution than merely changing the CBO's director or making it adopt dynamic scoring. They want to "open source" the CBO: make its models public so that anyone can apply them to policy proposals, and dispute the models' assumptions. The CBO's work would continue to be very important. But when its analysts said that a law would have effects A, B and C, we wouldn't have to take their word for it as often as we do now.
A new conception of the CBO lends itself naturally to a new director. And it would be odd for Republicans to leave a Democratic appointee in such a politically sensitive position -- the equivalent of a Republican president leaving Health and Human Services Secretary Sylvia Burwell in her job because she knows her way around the department.
Ultimately, though, the problem with the CBO isn't who is in charge of it. The problem is that it's so important who's in charge of it, and that their assumptions are generally so opaque. More transparency would solve those problems.
This column does not necessarily reflect the opinion of Bloomberg View's editorial board or Bloomberg LP, its owners and investors.
To contact the author on this story:
Ramesh Ponnuru at rponnuru@bloomberg.net
To contact the editor on this story:
Timothy Lavin at tlavin1@bloomberg.net
Before it's here, it's on the Bloomberg Terminal.
LEARN MORE