Are the Red Sox the New Yankees?
There's the feeling that the Red Sox brass is straying too much from its game plan, engaging in high-roller tactics while denouncing those of their competitors.
by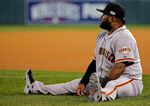 The Boston Red Sox went on a bit of a spending spree yesterday, signing two of the biggest bats in this Major League Baseball offseason: Hanley Ramirez and Pablo Sandoval.