What Global Warming? Pass Me a Blanket
Whether they're Republicans or Democrats, men or women, young or old, people's concern for climate change varies with the weather.
by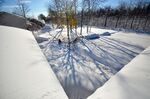 "Global warming strikes America! Brrrr!" So tweeted Missouri Representative Vicky Hartzler last week, as much of the U.S. experienced extreme cold. (In Buffalo, it was a full Snowpocalypse.) Do frigid temperatures give you doubts about global warming?